There's been alot of discussion about the potentials of blockchain technology to transform various aspects of society, separate from its most common associations with cryptocurrencies. One application that's received significant ponderance is the use of a publicly-distributed ledger for land registry purposes. And while many have simply talked, another group has been in action and making strides to actually make it happen: Bitland.
I first heard about Bitland a few months back during their first crowdsale and threw in a couple hundred bucks – not so much as for the aim of making any killer return on the investment, but because it seemed like a really cool project worthy of support. As with any business venture or cryptocurrency-backed project, there's always question of whether the teams actually have what it takes to turn their idealized vision into a reality – and I honestly couldn't tell from what was shared publicly online how far they were in getting their concept off the ground. But in digging in and assessing what I could gather about what they had in the works, this seemed like a worthy cause to back…
As is the case in many developing countries, the issue of land registry in Ghana is one subject to a fair amount of inefficiency and without highly-professional bureaucratic standards, corruption that creates significant obstacles for both citizens and foreign investors in all kinds of real estate and business dealings. Bitland has not only set out to design & execute blockchain-based solutions to these challenges through cooperative efforts with the Ghanaian government – but expand their involvement in collaborative projects to help develop synergistic infrastructure components & programs to address community needs that may be supported through effective technological & entrepreneurial innovation in the regions they are operating.
While the operation is scheduled for an official launch with the opening of an office in Kumasi, Ghana this October – and a second in Lagos, Nigeria next January – the team has been making progress towards their goals the past few months with some promising behind-the-scenes developments underway. Building slow & steady, the operation has received press in Forbes, won the 2016 Netexplo Award for innovation to tackle fraud and other problems arising from lack of land registries.
This 3-minute video gives a great overview: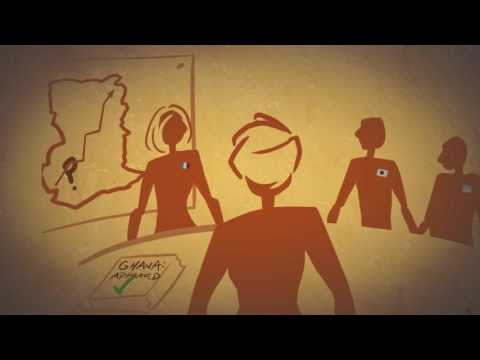 Whereas there have been countless alt coins popping in and out of existence within the crypto-community, Bitland is taking a vastly different approach to their venture: a real-life enterprise putting its capital to use for profound social impact.It's difficult for many of us in the first world to grasp just how great of an impact issues such as corruption and the absence of an effective land registry can have – and it's easy to underestimate just how positively transformative the implementation of an effective system solving those challenges could be.
No news report or article can quite capture the scope of this subject. Nor can a thorough research of the subject from a distance accurately paint a picture of the situation as it exists there on the ground.
Yet, no well-informed person can deny: this project is kind of a big deal.
Those of us in the first world can take for granted what opportunities having a reliable land registry system creates – while losing sight of what troubles the lack of such has in foreign countries. It's a prime condition for chaos, without the capacity to prove ownership of real estate – and definitely not conducive to investment, economic development or thriving entrepreneurship.
""Bringing clarity to land ownership rights will not only reduce corruption, but will also open up trillions of dollars in locked capital, since land that does not have a functional title cannot be used as capital. And, securing a mortgage to build or purchase homes is not possible," ~ CCDEK & OpenLedger CEO, Ronny Boesing
Creating a reliable database for land titles on a public ledger is undoubtedly a game-changer for regions plagued with land disputes, wherein it may next to impossible to take out a loan for property investment when it can't be proven who owns the land. Bitland aims to not only tackle this challenge – but through their local NPOs, service communities through education, micro-financing programs, and infrastructure development.
The implications… nothing short of extraordinary and inspiring.
While the thought of business in Africa might bring up stereotypes of Nigerian prince scams and such for some, there's good reason to look past such preconceptions.
My mind had been cracked open to the realm of entrepreneurism on the continent a year ago when a business partner shared his experiences growing a gold mining venture in Ghana. The African continent is undoubtedly huge and has massive potential for development, andapparently, Ghana is one of the leading countries in terms of social, cultural, and capital growth on the continent.
Granted, dealing in third world countries known for their governmental corruption may come with great obstacles. However, it may also be because of such obstacles that such great opportunity exists for introducing innovative solutions with the potential to upgrade bureaucratic systems gravely in need of revolutionary intervention.
Currently, up to 78% of the land in Ghana is unregistered, and progress has been thwarted due to corruption. The resulting problems have been tried to be solved for the last two decades, and the Ghanaian Land Commission has been working with the World Bank on the Land Administration Project since 1999 and is seeking automated solutions for streamlining the registration process, fighting fraudulent registration, and increase productivity – solutions which Bitland's blockchain applications and community outreach program have been designed to provide.
Bitland CSO, Chris Bates, excellently explains the project at the 2016 Netexplo Awards in France
Over the past two years, the Bitland team has been working with educators to hold seminars & conferences in 28 communities, establishing the testing grounds for the pilot project.According to Bates,
"The Bitland Project has been picking up momentum slowly, and [is] approaching critical mass. Our team has been working extremely hard to make sure that operations work smoothly, and daily progress achieved. We are nearing completion on our Alpha protocol and will be testing on the ground in the first Bitland Center in Ghana by October."
It is anticipated that a ripple effect will spark increased interest in the Bitland across the continent, as they also establish a presence in Nigeria in collaboration with ERP Systems Coordinator at the OPEC Fund for International Development (OFID), Jacobs Edo.
Edo has just recently released his book, "Digital Transformation: Evolving a Digitally Enabled Nigerian Public Service" featuring Bitland, and will be distributing it to 100 leaders throughout Nigeria and the African continent.
The vision entails multiple centers established throughout both countries, housing servers powered by solar energy to ensure 24/7 stability of the network, doubling as educational & entrepreneurial hubs serving the local communities.
"Bitland is not only involved in land title registration. We have many other elements to our development project. We are actively preparing to pilot various facets of this program in different regions… One of the benefits of installing different pilots is that each individual case-study can address the concerns of each location's diverse array of demands that can be met with simultaneous protocol testing." ~ Chris Bates
The venture has launched their own crypto-token, the Cadastral, to both fund Bitland projects and store land title transactions on its blockchain (which is built on Bitshares' MIT-licensed Graphene 2.0 technology). Currently, Bitland is in the midst of its first official ICO (Initial Coin Offering).
Open to the public, those who want to support the project – whether for the cause alone or buying in as a speculative investment – are free to purchase a stake of any size in the enterprise.
Cadastrals can be purchased directly on the Bitland Global website, here on CCDEK or the decentralized exchange, OpenLedger – which is both hosting the token and whose team is helping to build the voting system for the Bitland Reserve.
OpenLedger is also a part of Danish Ronny Boesing's "Decentralized Conglomeration" – a key partner in the project, whose CCDEK is assisting with Bitland's PR & marketing campaign in addition to hosting the ICO launch on OpenLedger.
According to Boesing,
"[This may be the] last chance for the public to enjoy becoming a part of something that may well turn into a historic event creating the foundation for blockchain based innovation as a shining example of what's possible if you believe strong enough and have the necessary knowledge and tech how to go with it."
Can investors in Bitland's ICO expect spectacular returns in the years to come? Who knows.
But ROI aside, consider the potential of the project to benefit a developing continent…
This isn't just about a cryptocurrency. It's not just about an interesting application of blockchain technology. It's about facilitating a major wave of transformation to empower PEOPLE.
It's just as much an educational initiative, as a technological application. And the tech side of things is merely a means to bring about much-need social benefit to millions in the developing world.
World-reknowned economist, Hernando de Soto estimates that granting the world's poor with titles for their land, homes and unregistered businesses would unlock $9.3 trillion in assets – quite the sum, that'd go a ways in reducing global poverty. Ghana & Nigeria combined might represent only a small fraction of that capital waiting to be created through effective land registry – though should Bitland's intentions be matched with a professionalism in strategic execution that achieves even a fraction of what success could be possible, this may prove to be a landmark project in the fulfilment of the UN Sustainable Development Goals.
Time will tell just how effectively Bitland's plans can be carried out. No doubt, dealing in foreign lands poses some heavy challenges; though with CEO Narigamba Mwinsuubo and local partners on the ground and deals in the works with governmental bodies already committed to finding solutions Bitland is bringing to the table, things look promising.
And if the venture continues on the path it's founders have been blazing, this shall bring enormous benefit to the African continent – and set a fine example for other countries all over the world to follow…